Click here to register for our School Holiday Programmes
Next School Holiday Camp Dates:
JANUARY 2019
22nd - 24th January [ Whole week FULL ]
28th - 31st January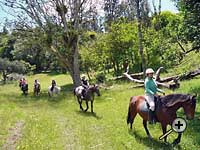 School Holiday Day and/or Overnight Camps
Tasman Horse Rides runs school holiday programmes and camps for children from 8-14 years.
Kids and teenagers learn riding skills in the morning, adventure out to enjoy trail riding over the farm in the afternoon, play team games on horseback, learn to trot, canter and gallop (if they want) all on a horse assigned to them for the camp. They will ride in groups to match their riding skill and confidence. At times, we take separate treks out in the afternoon ride to cater for different riding abilities.
Children on the overnight camps stay in our comfortable bunkrooms and enjoy tasty home-cooked meals. At the end of the equestrian part of the day the children are part of daily farming activity - sometimes feeding out to small animals, chooks and all our pets. They enjoy playing outdoor games, creating fun and making new friends. In bad weather we have plenty of room in our indoor arena for setting up games and activities, and we also have a cupboard full of board games. Children are fully supervised by our caring, experienced staff at all times at camp.
Your child is very well looked after at all times, our staff are trained in basic first aid practice and every precaution is taken to keep everyone well and happy.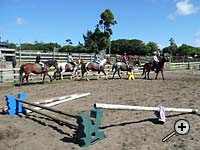 We offer great flexibility in our programme so kids can come for one day, two days or the full week - whatever suits you and your budget. Our Flexiplan is only available within the publicised dates. We provide a convenient morning pick-up and end of day drop-off for your child at four convenient locations in Auckland (see below).
Healthy, homemade morning tea, lunch and afternoon tea is provided daily.
Kids & Teens - What You Can Expect
On your first day you will be matched with your very own horse to ride and care for during your time on the holiday programme. You will learn horse and pony skills including grooming, feeding, riding skills and pony games. You will be grouped with other children according to your previous riding experience for the morning lessons; this includes games on horseback to practise riding skills. You will have a lot of fun with new friends! In the afternoon you will trek across our farmland or into Woodhill Forest.
Rain or poor weather is never a problem as we use our indoor arena for riding lessons and some great games on horseback, such as egg and spoon relays, horseback dancing, the marching game, obstacle courses, fancy dress competitions ... and plenty more, like our gymkhana day, ribbon day and games day competitions.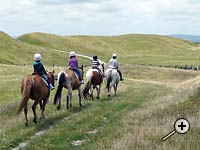 Camp Prices
1 Day: $135
2 Days: $250 ... Overnight option: $280
3 Days: $350 ... Overnight option: $420
4 Days: $450 ... Overnight option: $560
5 Days: $550 ... Overnight option: $680
Flexi Plan - if the above days do not suit your holiday arrangements, choose your own days.
Pick-up / Drop-off:
We offer convenient transport and will pick up and drop off to the following locations every day:


Takapuna - Drop-off 8.30am, Pick up 5pm; at carpark in front of Golf Warehouse, Takapuna Landing Road, off Fred Thomas Drive, off Esmonde Road.


Cox's Bay - Pick-up 8.10am; Drop-off 4.10pm. Cox's Bay Reserve, Westend Road, Westmere.


Greenlane - Pick-up 7.45am; Drop-off 4.45pm. McDonalds carpark, Greenlane.


Westgate - Pick-up 9.00am; Drop-off 3.45pm. Front entrance, Kentucky Fried Chicken, Westgate.
Pick up times at Takapuna and Westgate may change on a daily basis. Tasman Horse Rides will notify you of these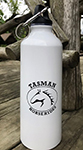 as required.
School Camp Souvenir
Why not grab a great souvenir for your child's stay with Tasman Horse Rides. Our very handy 500ml drink bottle (not plastic) is just perfect for lunch boxes or school backpacks.
Just $10 each - you can even order one and pay for it when you register for our school holiday programme.

REGISTER

Click here to register for our School Holiday Programmes


Next School Holiday Camp Dates:

JANUARY 2019
22nd - 24th January [ Whole week FULL ]
28th - 31st January