... PRICES
... HORSE LEASE PROGRAMME
... FACILITIES
... ACCOMMODATION
... PHOTO GALLERY
... CONTACT US
... HOME

info@tasmanhorserides.co.nz
Come horseback riding with us at Tasman Horse Treks and enjoy trekking over our 120ha (300 acre) working farmland and ride through the magical Woodhill forest. We offer safe horse riding experiences for all levels of riding ability over land that offers you spectacular scenery, for the relaxed quiet trekker to the more advanced or keen rider. You can trail ride over gentle rolling hills, you can trot, canter or gallop the hills and forest.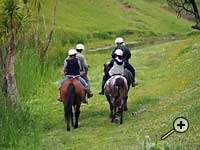 On arrival you will be greeted by our friendly team and matched with a horse to suit your riding ability and confidence level.
Safety helmets are provided and basic riding instruction given as required.
All Tasman Horse Ride's treks are led by knowledgeable, friendly guides who will show you some great riding places and take care of you on your trek.
It is important you wear suitable clothing for riding such as jeans or track pants, closed footwear such as gumboots, trainers or ankle boots.
NO jandals, sandals or high heels.
Bookings are essential for all rides; departure times are arranged to suit. We will phone you on the morning of your booking if the weather is not suitable for riding.
ONE HOUR TREK                                                                            $45.00
You will ride over the farm's open pastures, through grassy glades and along winding trails to reach great places to enjoy great views and soak up the country atmosphere. You will ride at your level so if you do want to trot, canter and gallop we take you to riding spots to have a great paced run.
TWO HOUR TREK                                                                          $80.00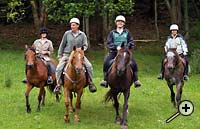 After riding over the farmland, grassy glades and winding trails you will then trek into the forest to follow sandy trails under the awesome canopy of the pine trees, or ride up adventurous hills to reach some high points which provide spectacular views over the Kaipara Harbour, West Coast beaches and the Tasman Sea.
BEACH TREK                                                                               $280.00
Our family spent a magical day with Tasman Horse Rides last week that we totally loved. Fun and so many laughs had by all of us as we trotted and cantered over their wonderful farm - we have booked our return, thanks so much for a great day.'
- the Green family
Auckland
This trek is not for the faint-hearted. It lasts approximately 5½ hours, so an experienced level of riding is required - for instance, riders should be able to trot and canter with ease. The ride initially covers the same farmland and forest as our Two Hour and Picnic Treks before heading onto the vast expanse of sand at Muriwai Beach, which will provide you with an uninterrupted riding experience. Energy snacks and drinks are provided.