... PRICES
... HORSE LEASE PROGRAMME
... FACILITIES
... ACCOMMODATION
... PHOTO GALLERY
... CONTACT US
... HOME

info@tasmanhorserides.co.nz
Tasman Horse Rides has comfortable, practical accommodation available for backpackers, groups of friends, clubs, schools and families.
In our modern, comfortable barn-style accommodation we have: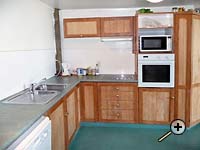 Three separate bunk rooms with a total of 18 bunk beds. You can book your own family bunkroom, share with friends or just bunk in with other travellers.
You can self cater in a modern fully-equiped kitchen.
A spacious communal lounge area for shared dining and relaxing at the end of the day provides a place to unwind and share experiences.
Full bathroom facilities with separate mens and womens bathroom, with two hot showers in each bathroom.

Accommodation costs $20 per person per night.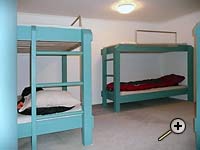 Local Attractions
Our accommodation is handy to many of the area's attractions which offer an exciting variety of activities to suit everyone, including:
Woodhill Mountain Bike Park
Tree Adventures
Extreme 4WD Adventure Park
4Track Adventures
Kaipara Kayaks
Parakai hot pools
For more attractions visit www.helensville.co.nz
Phone us on 09 420 8603 or email info@tasmanhorserides.co.nz.